Enrollment Starts Soon

February 17th will be our registration for returning families.  This is when you should register current students and siblings of current or past students.  March 8th will be registration for new students.   Classes will be filled on first come basis. Please include your registration deposit with the form. If you plan to carpool, you must have one person turn in registration forms for all the children that need to attend on the same days. You will receive a phone call if your first choice is not available.  A non-refundable registration fee is due with the registration form.
Go to the Parent Resources Page, or click here to download the enrollment form.
Class options: Please see the registration form for class options. There are 2-day, 3-day and 5-day classes. Remember there is also the option of completing kindergarten at MCH. There are a lot of choices to suit every child's needs!  We are licensed for ages 3-6. 
Our Mission
In a rapidly changing society, the most important thing that can happen in the education of a child is the awakening within him/her of a genuine thirst for learning.  The activities and environment provided at Montessori Children's House stimulate and develop that thirst for learning – an abiding curiosity about one's surroundings and a desire to discover and do things for his or her self.  Our goal for each child is the development of their ability to solve problems using an organized approach, to use freedom wisely, to respect themselves and others, and above all, to take joy in learning,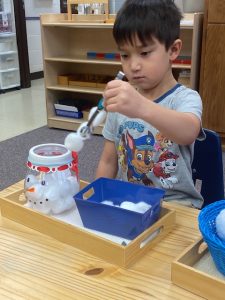 Schedule a Tour
Once you have looked over our site, and it the Montessori curriculum and experience appeal to you, please give us a call at 712-325-8346 to schedule a tour of the school